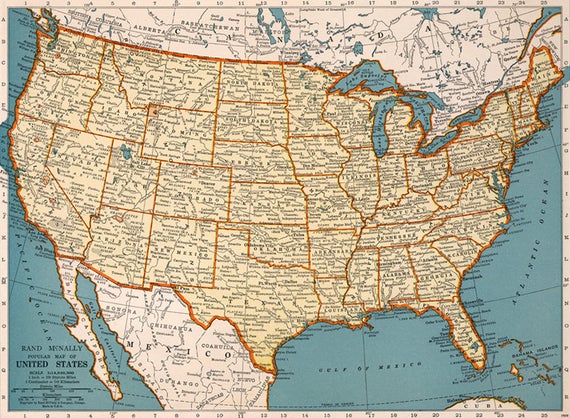 The lost art of Maps.  
I met the nicest ladies at a show last weekend and we shared our passion for reading a real map, or looking at an atlas.  I had forgotten the many lessons we all learned and taught our children about how to read a map. When I was a kid our idea of camping was to pack up the station wagon and go to Colorado camping.  The three kids slept in the car and mom and dad pitched a tent (to get away from all of us).  We thought we were on top of the world.  Hiking, cooking s'mores, going on scavenger hunts and on and on. 
One of my favorite memories was of how we were entertained on the trip.  We never stopped to buy souvenirs, but we had the greatest scrapbooks ever when we got home.  We loved sharing them with friends and grandparents.  My mom was pretty creative and knew my dad was going to "pull this car over" if we got too fussy and picking on each other. 
When we left for the trip we were each given a scrap book, a pair of safety scissors, Elmer's glue, a box of crayons and some pencils.  We created our own memory books with items we collected along the way.  These books had everything from a matchbook to a postcard and so much in between.  We let our imagination lead the way to create the journey.
The most valuable item was a road map.  We each had our own.  In those days they gave them out at the Texaco station.  We plotted the course with our crayons and learned to read the map.
Did you know even numbered highways run east and west?  Odd run north and south.  The little dot and numbers helped us know how many miles it was from one place to the other.  We looked at the map and found points of Interest and then begged daddy to stop and see the worlds largest pecan or Big Tex.  And, yes he almost always stopped. 
The kids of today see their map on a phone or tablet and you cannot get a good appreciation of the total picture. 
When we started with the old "are we there yet" we were asked to look at our maps and see if we could figure out how far to go.
We read road signs and stopped at historical markers and learned. 
Now, this is a real step back in time, but we made our spending money along the way.  In those days people would throw soda bottles out on the roadside.  Did you know that you could turn these bottles in at the grocery store and get 3 cents, or more for each one.  Those were the days!!