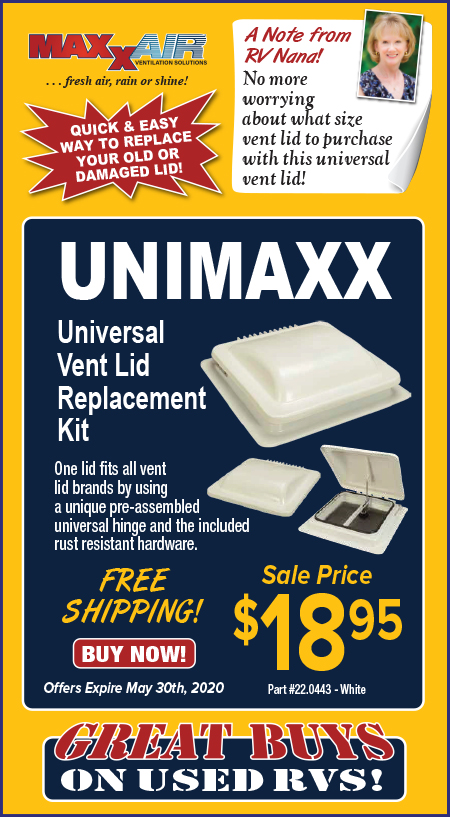 Unimaxx Universal Vent Lid, where have you been all my RVing life? So, here's the thing, I'll cut right to the chase. I'm a "'git 'er done" kind of gal. When there is a problem, let's fix it! I don't want to waste a bunch of time figuring out ways to "fix it". I want the quickest, most through and easiest resolution. Well, that's exactly what you get with the Unimaxx Universal Vent Lid.
At some point in your RV life, you are probably going to have to replace damaged, or old vent lids. Whether due to nature, or your misjudged clearance height you are going to be replacing vent lids. Why not do it with one, easy-to-install universal vent lid? No wasting time trying to "figure out a way to 'Fix it'", just order a new one that you know will fit. No research needed.

Basically, the UNIMAXX Universal Vent Lid takes the hassle out of having to know what year your current lid was manufactured and who manufactured it! It ELIMINATES the need to match HINGE types, replacing damaged vent lids on ELIXIR, HENGS, JENSEN, VENTLINE and other roof vent assemblies. Plus, it's available in White, or Smoke so no really worries about matching your RV.

Oh, did I mention it's easy to install? I see that I did…just wanted you to know. Click on the links for more information, or give us a call at PPL Motor Homes, we'd love to talk RV shop!