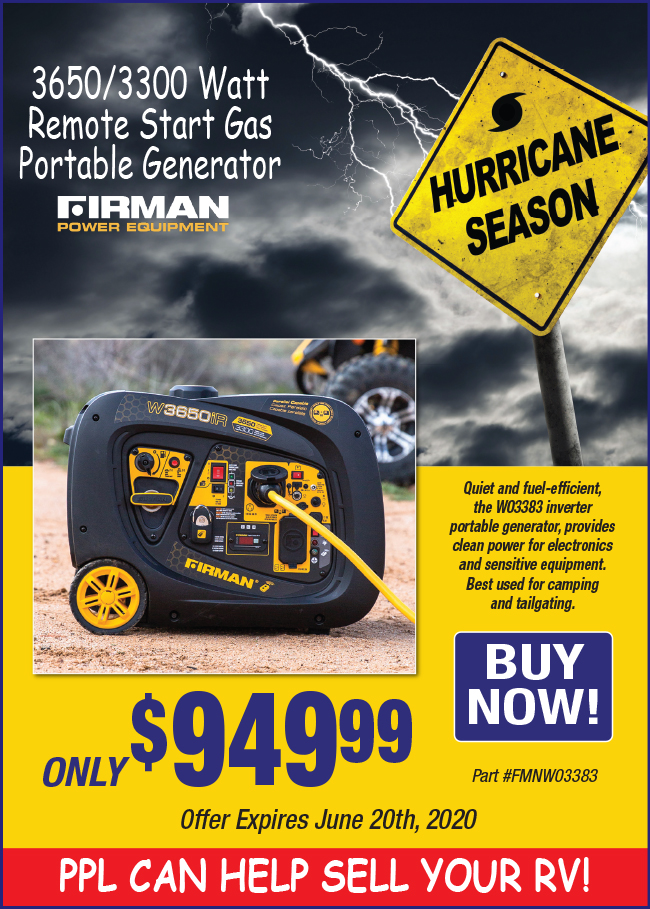 We take it for granted: POWER.
Really, if you think about it, having access to power around our homes is essential. Think about how mad you get when the power goes down during a storm, or when that reckless construction crew down the street accidentally knocks a transformer off the utility pole (true story). At home, we demand 24 hour access to power. Now RVing is a different story.
There are a couple of ways to go about your next RV adventure. You can go to one of the 1,000's of fantastic RV Parks and Resorts around the US and have virtually all of the comforts of home. Of course, that likely includes access to hook up electricity. But what if you are the adventurous type, or are looking into boondocking as a new direction for your RV Lifestyle? What do you do about power?
Easy! You equip your RV with an affordable and reliable generator like the the FIRMAN W03383 Inverter generator features 36500 starting watts and 3300 running watts. The FIRMAN Volt inverter system ensures clean, consistent power output from the FIRMAN Power Stream alternator. For the ultimate in portability the W03383 is less than 94lbs. with a built Tuff-Stuff handle and wheel kit. Major touch points are all front and center for easy starting and use, power, choke, eco-mode and all receptacles are conveniently located for easy access. 
Not to mention, everything you need comes standard in the box including: oil, funnel, owner's manual and, spark plug wrench. 
Features
193cc engine with low oil shut off and cast iron sleeves
1.8 gallon tank provides up to 8 hours of runtime
FIRMAN Eco Mode varies engine speed depending on load for maximum fuel efficiency
Less than 3% Low THD-Clean power
Multi feature control panel with covered outlets
3 year warranty
If it's time for a new generator, or your very first generator, you should really check out the FIRMAN W03383 Inverter generator. It's reliable, easy to transport and ON SALE thru June 20th, 2020. That should be an easy date to remember!
Happy RVing!
-RV Nana