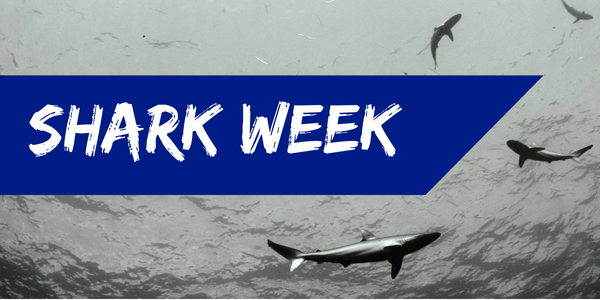 It's shark week almost every week off of Galveston Island. At this time of year. When the temperatures outside are soaring, many RVers turn to our wonderful gulf coast for a way to cool off.  The breezes are usually great and the opportunity of dipping our toes, or whole bodies in the Gulf of Mexico is enough to cool anyone off. That is until someone reels in a small Hammerhead while wade fishing…that's when my toes come out of the water.
Now, don't get me wrong. I have nothing against sharks (except that I'm a bit scared of them) and absolutely love the beach, especially the western end of Galveston as it is a favorite place for our family to get away.  Plus, it's just short drive from my home in Sugar Land.  Of course, it is the Gulf of Mexico and where we are located on the coast, we rarely have Caribbean blue water. However, there are so many activities and fun things to do that make Galveston a favorite spot, regardless of any apex predators silently gliding through the murky 
My kids and grandkids enjoy playing in the waves and sometimes even get a little bit more adventurous and go out a little further than I am comfortable with ,so I am always paying close attention to everyone in the water.  From strong undertows to sharks, anything can happen.  I recently read an article about sharks in gulf waters and discovered that Whale Sharks, one of the largest fish in existence, actually like to hang out along the artificial reefs along the coast. 
Now I know Whale Sharks aren't aggressive, and are considered quite shy actually, but I wouldn't want to meet any shark in the water.  It really doesn't matter to me if it's a mini or a whale, they all scare me. And yes, I know that they are more afraid of me than I am of them, but just let me have this semi-irrational fear. 
There are about 40 shark species found in the Texas waters of the Gulf of Mexico. These 5 are the most common:
Atlantic sharpnose sharks
Blacktip sharks
Bonnethead sharks
Bull sharks
Spinner sharks
Check shark regulations and learn to identify the different species as well as any size limits. Recreational Texas anglers are allowed one shark per person per day with a two-shark possession limit.
Sharks are the ultimate Texas natives: two 300-million-year-old 'supershark' fossils were recently found near DFW. Even sharks are bigger in Texas!
Shortfin mako sharks are the fastest sharks on record, clocking in at 46 miles per hour.
Whale sharks are the largest fish in existence and hang out at Texas artificial reefs (see photo). Their populations are in decline – as are many shark species.
Find photos and fun facts about Gulf sharks in the recent Texas Parks & Wildlife story, "Swimming With Sharks."
So, to all you RVers and beach goers, please take care when enjoying the fun of the beach.  Watch your children and pay attention to the area they are wading, or swimming in.  Be safe, have fun and enjoy this great RV lifestyle.  Check out Galveston Island RV Resort on the far west end of the island.  This is a great place to go RVing!
***Also, bonus tip, make sure you watch your dogs.  Many people like to let their dogs play in the water and I have seen some dogs that were great swimmers, but undertows can be severe and ingesting too much salt water can be very dangerous for old Fido. Make sure they get plenty of fresh water during beach play.