Used often, but rarely talked about…the RV toilet. I mean, if you really want to think about one of the most significant additions to modern convenience, you don't really have to think much further than the "personal sewage manager". Whatever you refer to it as: the throne, the head, or the porcelain princess; the toilet is a daily use item that would be hard to live without. 
All jokes aside, your RV's toilet is a very important feature where un-compromised functionality is paramount and I think is often overlooked in regards to either simple maintenance, or replacement. Think of this article as your introduction to the wonderful world of RV sewage management.
THERE ARE FIVE POPULAR TYPES OF RV TOILET:
Gravity flush – this is the most traditional toilet; tried and tested in RVs for decades. It uses the simplest method of flushing – bowl contents drop directly into a large holding tank – ensuring reliable, straightforward performance. The gravity-flush toilet must be installed directly over the waste holding tank.
Macerating flush – motor-powered blades macerate waste into viscous slurry before the waste goes into a large holding tank. This flushing technology allows the toilet and waste holding tank to be positioned apart from each other. As a result of maceration, holding tank effluent is more fluid. This reduces "mounding" of waste while also making discharge from the tank easier and more thorough.
Vacuum flush – bowl contents are powerfully pulled from the toilet bowl through a stored vacuum vessel and macerating vacuum pump, and then pumped to a large holding tank. Like macerating toilets, this flushing technology also allows the toilet and waste holding tank to be positioned apart from each other. This allows a vacuum toilet to be located virtually anywhere in a motorhome.
Cassette – primarily designed for caravans and campervans, this toilet technology provides a compact toilet bowl that's permanently installed over a small, removable "cassette-style" waste tank. When flushed, the bowl contents drop directly into the waste tank. When the waste tank is full, it is manually removed through a service door and emptied into a standard toilet or other waste disposal station, then re-installed under the toilet bowl.
Portable – popular in small campervans and also for tent camping, portable toilets are composed of a lightweight plastic toilet bowl and small waste tank. When the tank is full, you remove the lower tank from the upper seat and bowl, empty it into a standard toilet or other waste disposal station, then re-connect it with the toilet bowl.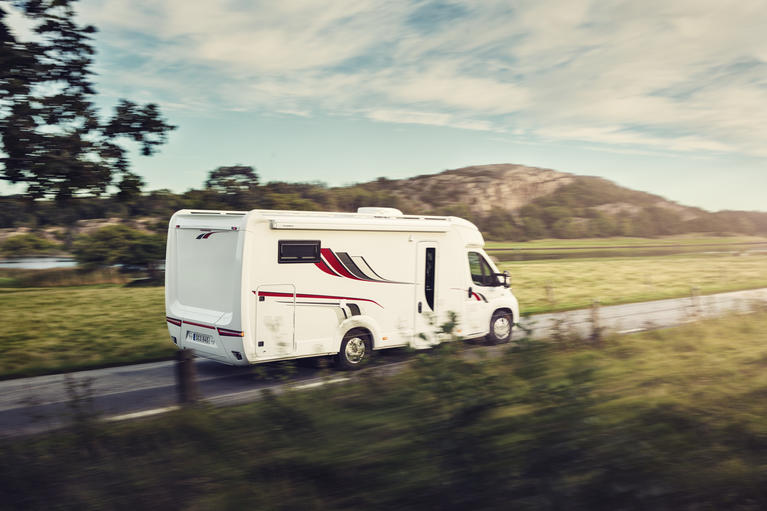 WHICH PERMANENT TOILETS USE THE LEAST AMOUNT OF ENERGY?
Foot-pedal-operated gravity flush toilets do not require any electrical connections, so they consume no energy at all. Other toilets that use very little electrical power (to operate an electric water valve or a flush valve motor) include cassette toilets and all-ceramic gravity-flush toilets. Also considered to be "low-power" units are vacuum toilets that use a foot pedal for flushing (a vacuum generator uses a mere 6 amps of electric power).
WHICH PERMANENT TOILETS USE THE LEAST AMOUNT OF WATER?
Foot-pedal operated toilets use the least water, while electric flush toilets are programmed to use a little more. However, most electric flush toilets offer "Normal" and "Low" flush options to help control water use.
Gravity-flush toilets consume very little water because they do not need extra water to flush waste from the bowl. Vacuum toilets also require very little water, as the vacuum power pulls waste from the toilet bowl and keeps the plumbing line clear without extra water.
WHICH TOILET IS THE QUIETEST?
The absence of a motor in cassette, portable and pedal-flush gravity toilets means they're very quiet. Another option to consider for keeping noise down is a slow-close seat which prevents closing with a bang!
WHICH TOILET IS THE EASIEST TO EMPTY?
While the waste from gravity-flush toilets can cause "mounding" inside a tank that can be difficult to rinse out, the pulverized effluent from a macerator or vacuum toilet is more easily and thoroughly discharged from a waste holding tank. In fact, barely any waste will remain inside the tank after emptying and, unlike gravity and cassette toilets, potential blockages caused by wads of toilet paper do not pose a risk.
WHICH TYPE OF FLUSHING MECHANISM SHOULD YOU CHOOSE?
Since the late 1970s, most residential-style RV toilets used a foot pedal for flushing. Recently, however, electric flushing models which either use a remote switch or electronic flush handle are increasingly popular.
Some electric flush switches include a "full tank" shut-down option that cuts off power to the toilet to avoid overfilling the holding tank. While most RV toilet systems let you determine when a waste holding tank is full (either by a built-in tank monitor system or by looking down through the toilet bowl when the flush valve is open), not all will prevent you from overfilling the tank.
With the risk of damage caused by overfilling, an electric flush with full tank shut-down can be reassuring.
HOW CAN YOU MAXIMIZE THE COMFORT OF YOUR TOILET?
Most people find high-profile toilets to be the most comfortable to sit on and easiest to stand up from. Hand sprayers have become popular options for additional bowl rinsing when desired. The simple replacement of plastic seats with enameled wood or slow-closing seats is also a common upgrade. Finally, when toilets may be used in the dark, remote flush switches are both easy-to-use and feature helpful illuminating backlights.
HOW CAN YOUR TOILET SYSTEM BE KIND TO THE ENVIRONMENT?
Use environmentally friendly tank treatment liquids, drop-in packets or dissolvable tabs. You can also conserve water by choosing a low-volume flush when the toilet system offers this option. Gravity, cassette and portable toilets, which do not rely on electricity, are also great friends of the environment!
Now, I know this is probably more than you'd ever want to know about your RV toilets, but it really is important information to have. In the long run, having a properly function septic system will keep you from flushing money down the drain…pun intended.