Saturday, August 25th marks the first day of the College Football season and that means – TAILGATING! All across America people are firing up their grills, rolling out the awning, getting out the face paint, and getting ready for a tailgate party. But the most important components to any awesome tailgate party are at TV and a clear, uninterrupted HDTV. Tailgating With the JACK HDTV Antenna means a better reception to see the Interceptions!
Let me introduce you to King's JACK HDTV Antenna…the secret to a clear and uninterrupted HDTV signal.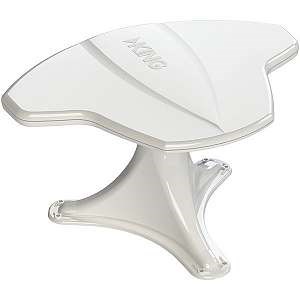 In order to tune into your favorite teams and not miss a minute of the action, you are going to need a reliable satellite system. One of the best tailgating satellite dishes currently on the market is the King JACK HDTV Antenna. It's easy to install and brings crystal clear TV of all of your favorite outdoor pastimes directly you your RV's entertainment system. 
How easy is it to set up? Let's put it this way: you probably could have done it in the time it took to read this paragraph. 
Boasting a range of up to 100 miles and a wider reception area, these units are among the best long range TV antennas.
This digital TV antenna comes with an integrated signal finder which incorporates a built-in digital signal meter allowing fast and accurate antenna pointing without having to blindly scan in multiple directions to find your local TV channels. LED lights illuminate as the antenna is rotated a full 360 degrees to indicate which direction the digital TV signals are strongest. The unit also includes a variable sensitivity adjustment to fine tune the antenna position for best reception in both strong and weak signal areas.
The fixed height, (just 12″) aerodynamic design requires no cranking up or down, so less roof space is needed for installation and the antenna is always ready for travel, and the unit's rotation shaft features an adjustable "tube in a tube" design allowing installation on various roof thicknesses without any cutting or gluing of components. This digital TV antenna system includes a 12-volt wall-plate switch that fits all standard electrical boxes and includes two TV outputs, a cable TV input and can be used as a selector switch between campground cable and over-the-air signals.
Click the link below to order:
KING Jack RV HDTV TV Antenna With Signal Finder
Tired of poor HDTV reception in your RV? This is the perfect product to virtually guarantee you never missing another important play again. And if you already have a JACK RV Antenna, please leave a comment below and let us know how much you love it! Your fellow college football fans, as well as all RVers for that matter, will be grateful.