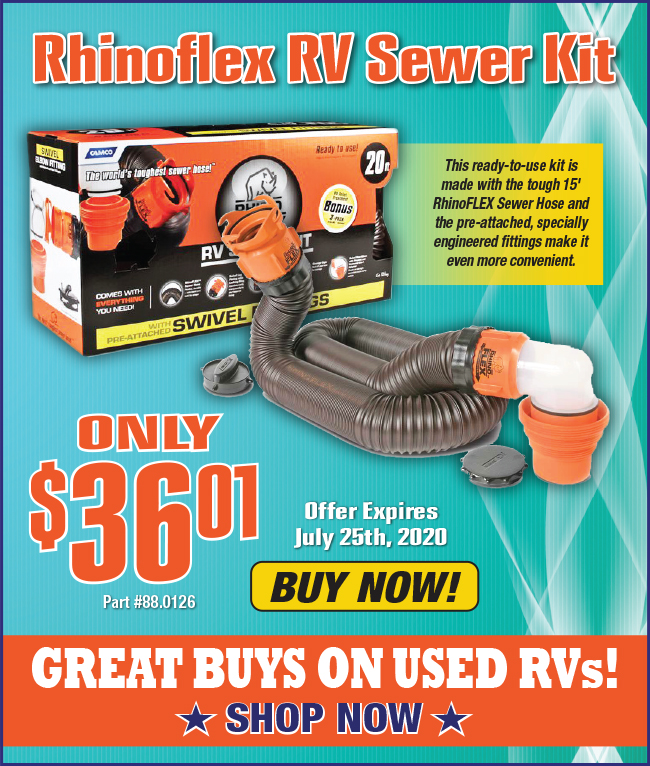 A Rhinoflex RV Sewer Kit is a must have. There is no denying that. It's convenient, it's rugged and most of all, they keep a dirty job, clean. We use RhinoFLEX sewer hoses with our RV.
RhinoFLEX sewer hoses are made of HTS (a high tensile strength formula) that is tough, flexible, and stays in place when you set it up. When compressed, the hose is only a 44″ long rigid pipe which makes it easy to handle and store. When pulling it apart, you just shaped to fit your specific situation, and it stays that way!
These sewer hoses are tough too! RhinoFLEX uses three wraps of vinyl over a steel-wire core which minimizes pinholes and other leaks caused by rough scrapes and abrasions. You know this happens a lot and can lead to a catastrophic failure of the hose.
The great think about the RhinoFLEX RV sewer kit is that it is ready-to-use and comes with the tough 15′ RhinoFLEX Sewer Hose and the pre-attached. These specially engineered fittings make a positive attachment a breeze. At the RV end of the hose, there is a super-tough (yes, that's a phrase often used in the RV Scientist Circles) bayonet fitting with 4 prongs for a more secure fit. At the dump-station end, they've added an easily detachable 4-in-1 adapter for fitting to 3″ slip or 3″, 3-1/2″ and 4″ threaded pipe.
Bing, Bang. BOOM. There you have it. Adding a RhinoFLEX RV sewer kit to your RV's sewer system make the dirty job of dumping waste almost…enjoyable? You can get it HERE…you can thank me later.
-RV Nana