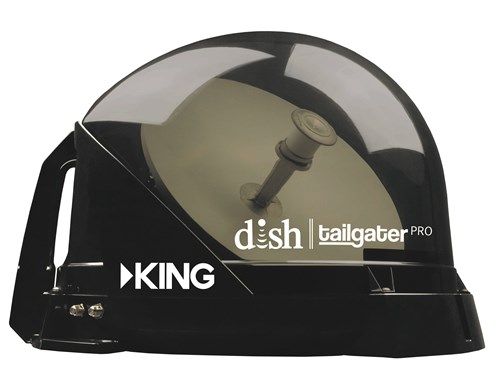 Now, if you know anything about RVNana, you know I'm a big proponent of getting outdoors, but sometimes you just want to stay in and catch a little R&R from your R&R. What do you do? Read a book? Play on the computer? Watch TV?
If you said the latter, then you might want to consider an upgrade on your RV to the latest RV Digital TV Antenna technology with King Controls' new JACK Digital HDTV antenna system. This is an amplified, ultra high gain antenna that provides the best digital TV reception available for your RV. The new JACK Digital HDTV antenna system. It has an integrated signal finder which incorporates a built-in digital signal meter allowing fast and accurate antenna pointing without having to blindly scan in multiple directions to find your local TV channels. LED lights illuminate as the antenna is rotated a full 360o to indicate which direction the digital TV signals are strongest. The unit also includes a variable sensitivity adjustment to fine tune the antenna position for best reception in both strong and weak signal areas.
The fixed height, (just 12″) aerodynamic design requires no cranking up or down, so less roof space is needed for installation and the antenna is always ready for travel, and the unit's rotation shaft features an adjustable tube in a tube design allowing installation on various roof thicknesses without any cutting or gluing of components. This digital TV antenna system includes a 12-volt wall-plate switch that fits all standard electrical boxes and includes two TV outputs, a cable TV input and can be used as a selector switch between campground cable and over-the-air signals.
And the best part? It's east to install!
Now, if you are looking for an antenna that is DISH compatible then look nor further than the King Tailgater PRO. Make any outdoor event more entertaining with the reengineered DISH Tailgater Pro, a fully automated premium HD satellite TV antenna including an ultramodern new clear cover, an industry first. The clear cover allows you to see exactly where your dish is pointing to simplify troubleshooting and ensure you're receiving the best signal. Designed for sporting events, outdoor enthusiasts or even owners of a second home, the DISH Tailgater Pro is ideal for enjoying all your favorite TV programs anywhere, anytime. The flexible design is ideal for portability or roof-mounting. It is fully automatic and works right out of the box when connected to a compatible DISH HD Solo receiver and includes an exclusive interactive on-screen display for hassle-free set-up for DISH programming. The Tailgater Pro supports multiple TV viewing, so you can stay current on more than one show or live event. If you already have DISH at home, just add the new receiver to your account. Enjoy your favorite TV programming anywhere, anytime.
The Tailgater PRO is ideal for RVers, sporting and outdoor enthusiasts, tailgaters, long haul truckers or anyone with an active mobile lifestyle, and allows you to take your DISH satellite TV service with you anywhere in the continental U.S.
So, if you are tired of poor HDTV reception, then King's JACK Digital HDTV Antenna System is a perfect choice for you. Looking for a better DISH antenna? Then check out the Tailgater PRO! As always, don't hesitate to give our PPL Motorhomes a call if you have any questions. We can see which is the right antenna system for you.