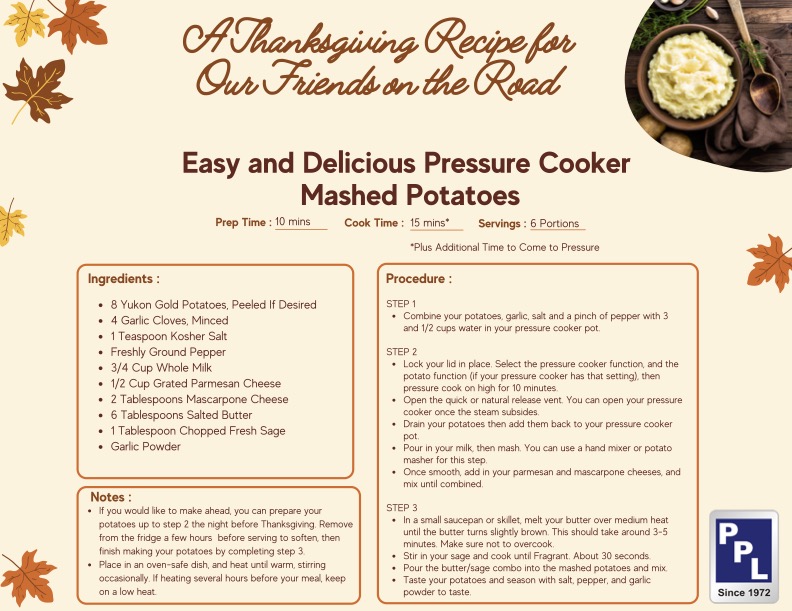 Thanksgiving is right around the corner and these pressure cooked mashed potatoes are going to give your traditional potatoes a real run for their money.
Ingredients:
8 Yukon Gold Potatoes, Peeled If Desired
4 Garlic Cloves, Minced
1 Teaspoon Kosher Salt
Freshly Ground Pepper
3/4 Cup Whole Milk
1/2 Cup Grated Parmesan Cheese
2 Tablespoons Mascarpone Cheese
6 Tablespoons Salted Butter
1 Tablespoon Chopped Fresh Sage
Garlic Powder
Instructions:
STEP 1
Combine your potatoes, garlic, salt, and a pinch of pepper with 3 and 1/2 cups water in your pressure cooker pot.
STEP 2
Lock your lid in place. Select the pressure cooker function, and the potato function (if your pressure cooker has that setting), then pressure cook on high for 10 minutes.
Open the quick or natural release vent. You can open your pressure cooker once the steam subsides.
Drain your potatoes then add them back to your pressure cooker pot.
Pour in your milk, then mash. You can use a hand mixer or potato masher for this step.
Once smooth, add in your parmesan and mascarpone cheeses, and mix until combined.
STEP 3
In a small saucepan or skillet, melt your butter over medium heat until the butter turns slightly brown. This should take around 3-5 minutes. Make sure not to overcook.
Stir in your sage and cook until Fragrant. About 30 seconds.
Pour the butter/sage combo into the mashed potatoes and mix.
Taste your potatoes and season with salt, pepper, and garlic powder to taste.
Notes:
If you would like to make ahead, you can prepare your potatoes up to step 2 the night before Thanksgiving. Remove from the fridge a few hours before serving to soften, then finish making your potatoes by completing step 3.
Place in an oven-safe dish, and heat until warm, stirring occasionally. If heating several hours before your meal, keep on a low heat.
Happy Thanksgiving from all of us at PPL Motorhomes!