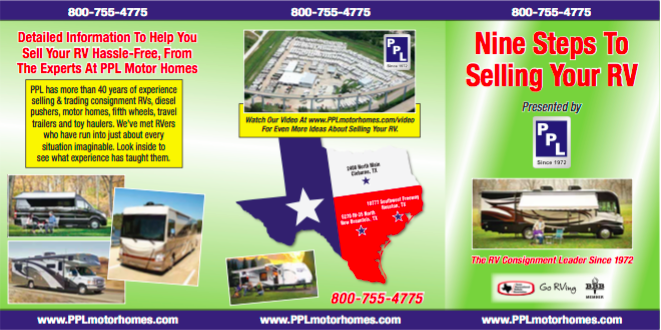 This information should help you sell your RV and avoid problems commonly encountered by individual sellers. We wish you the best in this process. We also hope that should the need arise, you'll consider PPL Motor Homes, where we're dedicated solely to selling pre-owned or consigned RVs!
Am I Charging Too Much?: This is the toughest part of the sales process. If you overprice your RV, chances are it won't sell and will become "stale" on the market. When this happens, it will be difficult to attract buyers even if you reduce the price. If you price the RV too low, you could lose hundreds of dollars and walk away feeling like you lost a lot of money.So how can you set a fair asking price? Should you go by the NADA or Kelley Blue Book value?The truth is, many buyers will tell you they don't trust RV Blue Book prices. And because comprehensive sales data is relatively scarce for RVs – unlike automobiles – they are right not to. RV book value often is set as a percentage of the original MSRP. In fact, your price should be set according to the actual condition of your vehicle and the pricing of vehicles being sold in your area.
Make Your Ad More Effective: Include important information: size, year, make, and model, mileage, and PRICE! If people don't see a price, they'll assume it is too high. Include your telephone number and/or email address, NOT your home address.  Avoid "fluff" words like cream puff, spotless, dream vehicles. They cost you money and don't carry weight with buyers. As an individual, you have many places you could advertise so whether you choose Internet or local newspaper advertising, one thing to keep in mind is that few buyers will travel a long distance to see just your vehicle
The Pros and Cons of Selling It Yourself:
Scenario #1: It's easy and cheap – with a "For Sale" sign and your phone number in the window, you park your RV at a busy parking lot or along a roadside and go home to wait for buyers to call. But what about the "tire kickers" who want to see the inside just out of curiosity? And what about that phone call from the police saying your vehicle's been towed because it may have been parked illegally?
Scenario #2: If you decide to sell by consignment through a dealer who sells both new and used RVs, or autos, trucks, and boats along with RVs, visit the lot before you commit. How will your vehicle be displayed? Remember that it will compete directly with dealer-owned new and used vehicles, which the dealer will make more money from than from a consigned RV. Finding a dealer who specializes in selling only consigned RVs is your best bet.
A Clean RV is Ready to Sell: A complete cleaning greatly enhances the sales appeal of your "home on wheels." Many of these items included in PPL's "Ultimate RV Cleanup" make a good checklist to use before selling.
• Complete exterior wash and wax, including the roof.
• Clean and vacuum all exterior compartments, interior cabinets and closets. • Thoroughly clean and shine bathroom tub, toilet, under sink and appliances. • Vacuum and/or steam clean carpet and upholstery.
• Polish all woodwork.
• Cover the mattress with a protective pad and make beds with coordinating bedding.
• Remove all personal items from interior
BE AWARE OF BUYER FINANCING. Finding a cash buyer for anything beyond a lower-valued vehicle may be more difficult than you think. Few people are capable of paying $20,000 to $40,000 or more in cash for the RV of their dreams. And while many buyers are credit worthy, banks, credit unions, and other financial institutions often will finance for only three to five years, making payments impractical. A buyer's best bet is to find a lending institution that will finance for at least a 7-10 year term.
Test Drive it Yourself:
Make sure the batteries are all charged – they affect not just the engine start, but your refrigerator, electric step and monitor panel. Make sure roof air conditioning units are cooling, especially during the summer months.
Turn the refrigerator on several hours before your appointment. Check vents for leaks.
Have ample fuel for test drives and propane for appliance demonstrations.
Go with all potential buyers on test drives. You don't want to have to call the police and your insurance agent to report that a potential buyer disappeared with your vehicle.
NEGOTIATE THE PRICE:
Always handle negotiations in a professional, non-emotional manner. This means being prepared to negotiate. Start by deciding what your bottom line will be before the buyer arrives. Most buyers will make an offer; they want to walk away feeling like they got a "deal," even if it is just a little bit off the asking price. Don't be offended by a low-ball offer.
Sometimes the buyer is "fishing" to see what your bottom line really is. If you know you've set the right price, make a counter offer.
AS-IS MEANS AS-IS:
After the test drive and the negotiations, it's time to hand over the keys. But never close the deal without emphasizing verbally AND in writing on your bill of sale that the vehicle is being sold "AS-IS." This is your last chance to make it clear that you have no liability or obligation to make repairs after the sale. You must document this to avoid misunderstandings, harassment, and even legal action later
PAPERWORK IS YOUR FRIEND:
Make sure that you promptly transfer your vehicle and eliminate any after-sale liability. Contact your local tax office for the appropriate forms and information on the transfer process, and pay special attention to the following:
• Always sign a contract of sale with the buyer that includes: year, model, vehicle identification number, purchase price, date of sale and "AS-IS" status (see 8, above).
• Never accept a personal check as payment. Ask the buyer to pay with certified check or cash before you hand over the keys and title.
• If a large amount of cash is involved, complete the sale and transfer of funds at your bank. It's safest not to let a stranger know you are home with the cash he or she just gave you.
• Don't give the title to the buyer so they can handle a loan or paperwork, and don't let the buyer take the vehicle for an inspection. Accompany them.
• Don't simply collect payment and sign the back of the title. If you don't transfer the title properly, you could remain liable. If you do sign the back of the title, make sure you complete it with the buyer's name and address and the date of sale. It's also a good idea to provide your state motor vehicle registration office with copies of the transaction, allowing them to remove your name from all liability after the sale.
• Go with the buyer to the tax office and make sure the title is transferred.
• Keep your copies of everything related to the sale and transfer for at least five years!
• Don't cancel your insurance until you know the buyer has coverage and the vehicle is transferred out of your name.
Selling your RV can be a tall order for most people and you want to make sure you are doing right by both the person buying your RV and, of course, yourself. If you have any questions at all, don't hesitate to contact PPL Motorhomes. We'll likely have the answers to all of your questions.
Save