Solar that won't BURN up your budget!
Item 72.3704 | MFR# 783-0100-01
Catch some RAYS this summer with this super simple, affordable, plug-n-play solar kit for the on-the-go lifestyle.  Technology can be a lifesaver. In this case, keeping your RV's batteries at full charge with a portable solar panel that won't BURN up your budget is just plain smart! 
It DAWNED on me that there is an affordable, simple way to start your introduction to solar! That is the Xantrex Solar 100W portable panels. You can travel light with this affordable and easy set-up solar panel. We put a lot of strain on our RV's batteries and that you are prepared to recharge overdrawn batteries is the type of preparation that we may not really put high on our priority list.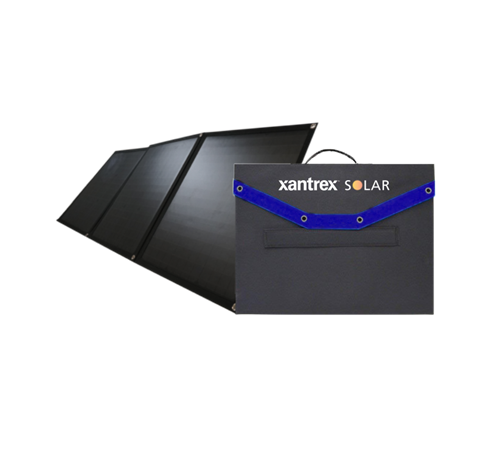 The Xantrex Solar 100W portable flex kit is very lightweight and has a compact design solution. The panel is half the weight and quarter the size compared to most 100W portable kits available in the market today.
The solar kit includes a 10A charge controller and a system hardware which is designed as a plug-n-play charging solution. Users can connect to their batteries using ring terminals, battery clamps, or a SAE connector for pre-wired RV solar ports. It comes with a built in storage pouch where the charge controller and adapter cables are stored. Users can adjust the panel to the perfect angle towards the sun with the adjustable tilting legs. These portable kits can be easily fold.
Features:
A 100W solar panel featuring 5 busbar mono-crystalline cells
A 10A Pulse-Width Modulation charge controller is provided to charge and protect your batteries
Three ways to connect your batteries
Portable, Easily storage and carry
Adjustable angle with tilting legs
Maintenance free
Maximum battery life and Prolong power supply
1 year product warranty
Simple, affordable, plug-n-play solar kit for charging your battery while camping and tailgating!
Let the sun charge your batteries with this affordable, lightweight, and easy set-up solar panel and let any worries of poor battery performance melt away.