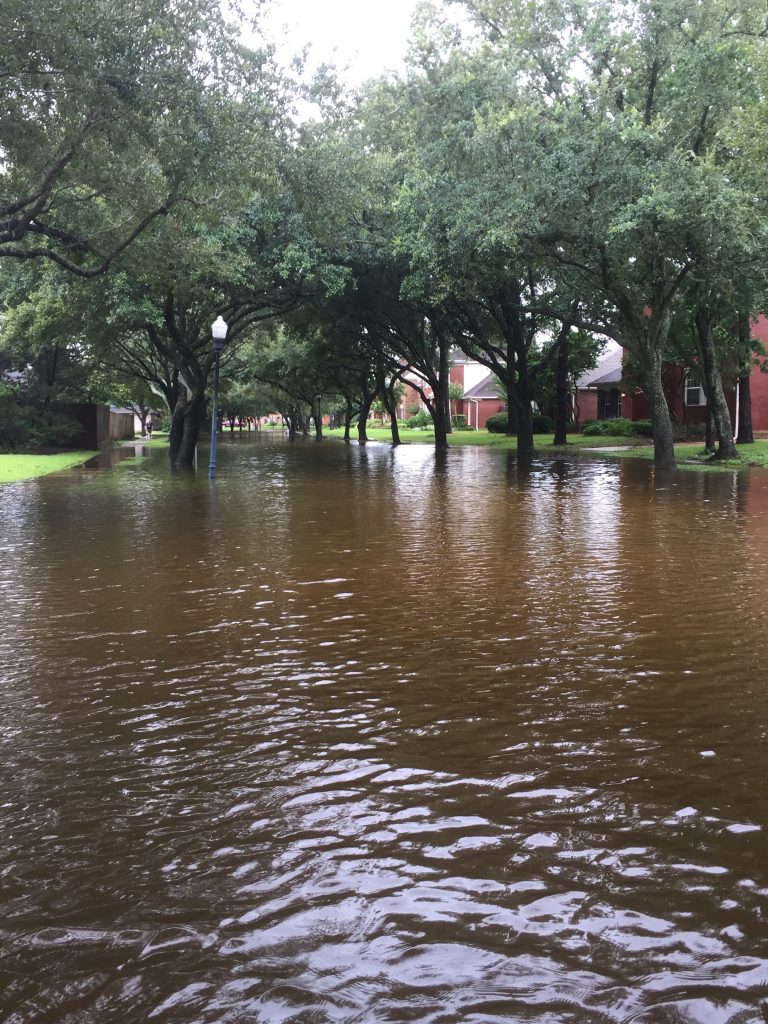 In a word, Mother Nature is: "Unpredictable". She can wreak havoc and at the same time also teach you about resolve and even go as far as to restore your faith in humanity. In the last week, Hurricane Harvey has brought a keen awareness of feelings to my life. As I waited to see where and when the Brazos River would crest, I started "thinking". Thinking about the roller coaster of emotions and feelings I've just been on. In the last week, I have had so many different emotions, I have been bombarded with feelings of all kinds as I try to make sense of it all. This is what I realized:
Denial. Plain and simple. When I heard the storm was approaching, I just knew it wouldn't hit us. It was going somewhere else, far away and you wouldn't have convinced me otherwise. I was in complete denial.
Second, I felt pretty Confident if it did hit us, I had been through several storms in my life, I'd handle it with ease. Besides, this wasn't my first rodeo and I knew what to do. I believed I was in total control.
Then the Uncertainty started to creep in. Is it really going to be that bad? It sure was starting to look like we were going to get our fair share of rain and heavy winds. Never mind the fact that this storm was going like 2 mph and sucking the ocean up in its path then dumping it on land as it turned up the coast. If you know Houston, you know that the bayous can only take so much run off then everything becomes below sea level. What should I do now? I didn't feel so sure and confident all of a sudden. Do I go to my daughter's, leave town or stay at home? I decided to stay.
Then I felt what I can only describe as "Relief" after the first night of wind and rain. It seemed that the worst was over but I knew better, it was merely the calm before the storm.
I was worried-Would the storm really be that bad? Which, in turn, made me feel pretty Indecisive. Those who know me, know that I have no problem making a decision and following through, but this was different. Here, we had a mandatory evacuation order issued, which didn't really matter, because I was the one who would decide if I should stay or go. My daughter's house was in a voluntary evacuation area, so I could go there, or they could come to my house because I had a two-story home.
I would have these bursts of PANIC. Watching the news was frightening. But, there was no time to waste, I chose to stay, so I started to prepare by moving things upstairs. I was on a mission, rushing around from one thing to another, moving it to higher ground. I also found out that I was in pretty good shape!
One of the feelings I felt was massive amounts of Gratitude for my neighbors checking on me and in turn, I invited everyone who was scared and wanted to be up higher to come on over in case of a flood. I really got to know my neighbors well and found out that they are all truly wonderful people.
Now I can't say that there weren't moments of abject Fear. For example What if a two-story house still wasn't high enough? How will I protect my daughter and grandkids? At that point I realized, I can't. We'd have to rely on rescue and the grace of God at that point. It wasn't a good feeling or thought to have. It was painful to think about, though it had to be done. Then it start's to set in. The Sorrow– that unbearable gut-wrenching feeling as your heart drops into your throat as you watch the rescue efforts and hear about of the losses. Then Sorrow and Sympathy lead to feeling Guilty that you are still OK while others literally face death and unimaginable loss. Even worse, there is absolutely nothing you can do but hope and pray.
I learned more about Compassion in the past 6 days than I have the past 6 years. Texans stood with Texans, doing everything they could for their neighbors…even if they lived hundreds of miles away. Then help started pouring in from everywhere, all over the United States. It was incredible. I felt an immense amount of pride knowing that Texans, and others, were so quick to help total strangers by putting themselves in harm's way to do so. If only the rest of the world would take a few notes from Texas on how to treat one another, maybe we'd be live in a much more hospitable world.
And this brings me to "HOPE" – As we came through the storm, I never lost sight of my hope and faith in God and actually reaffirmed my hope and faith in man.
As I reflect on my personal meeting with Hurricane Harvey, I quickly realize that I am one of the luckiest people I know. I thank God for my blessings, for being here today, for having the opportunity to share all these feelings and for you for taking the time to read them. I am thankful for the many people in my life who care and support me and my family. I am blessed to have a wonderful family and a wonderful PPL family, to be RV Nana, to have friends here for me, to live in this great state, in this great country and to have the good health and good fortune to live my life and make memories. I hope for the same blessings for every Houstonian alike.
Save
Save
Save
Save