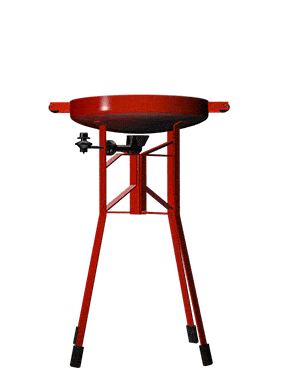 Where have you been all of my life FireDisc® Cooker? This is easily one of the most unique cookers I've ever used. It's the type of RV camping product that makes you smack your head and say, "Why didn't I think of that"? Seriously, I absolutely love how simple and sturdy it is, but the convenience of it is probably what I love the most.
Now, let's get to the nitty gritty of what FireDisc® has to offer. First, the 36" Deep FireDisc® Cooker is just 36″ inches high (there is a 24″ tall version as well) with the built in Heat Ring™. It is powder coated at over 450 degrees for protection. The cooking surface is 22″ and concaved so you can boil, fry, sear or simmer.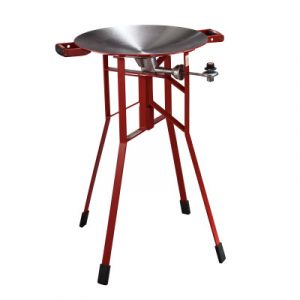 There is also a Shallow FireDisc® Cooker  which is a non-walled, shallow disc and lets you cook just about anything while reducing weight and preserving packing and storage space. The shallow disc is still "dished" to easily contain plenty of food.   It's actually designed for either large, or small propane tanks, so no worries there. Best of all, because we all know the importance of saving space in our RV, the FireDisc® Cooker is completely collapsible and portable. This thing is built to last and comes with no assembly required.
The FireDisc® Cooker comes with a flexible stand that adapts easily to uneven outdoor surfaces. This allows you to select their outdoor kitchen location for the view, not the flat ground. That's a big plus in my book. The heavy-duty, high content, polished carbon steel is tempered for extreme ductility, hardness, yield strength and impact resistance…which is great, because I'm always dropping something.
FireDisc® cooking surfaces all offer the same seasoned-effect, much like cast-iron skillets, yielding restaurant quality food that just gets better and better with each and every meal. Cleaning takes a mere minute. FireDisc® cooking surfaces can be sprayed off with a hose, dried, and wiped with oil. FireDisc® products come with a 5 year limited warranty.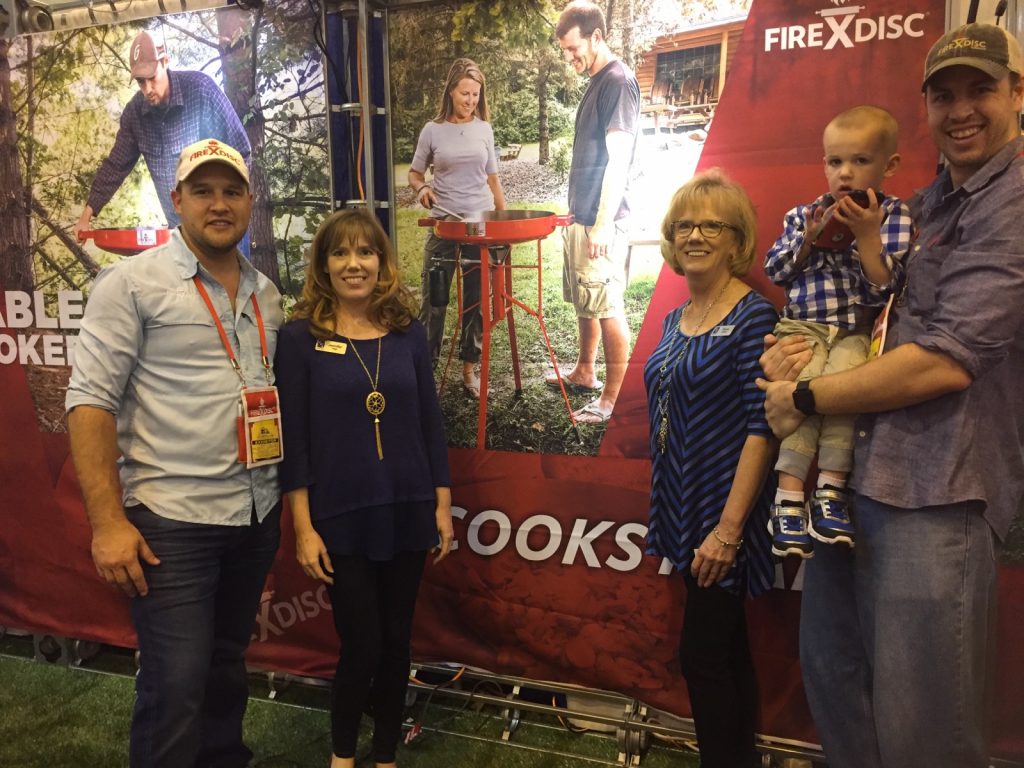 On a side note, I got the opportunity to meat the FireDisc® family, and they are, in a word, AWESOME. From the chef who created the concept for his own recipes, to the two owners. The chef has a newborn son and the other two young kids were just so neat, I wanted to take the home with me! You can tell this is a family fun business. They are all eager, young, energetic and passionate about their product. I absolutely love seeing that. It means a lot to see a business work this hard and deliver a product this good.
Speaking of a great FireDisc® Recipe, here's a great one they just sent us. It's a supercharged BLT with Rich & Rare Whiskey infused bacon, melted pepper jack cheese, fresh lettuce, tomato, topped with a spicy HABE mayo.
(serves 8)
Ingredients:
2 lb thick cut bacon
3 ½ tbsp. Rich & Rare Whiskey
4 tsp brown sugar
5 tbsp. butter
1 onion, sliced
8 slices pepper jack cheese
1 head butter lettuce
2 beef steak tomatoes, sliced
1 c Mayo mixed with 1 c HABE Sauce
16 slices of Texas toast bread

Directions:
Melt butter in your FireDisc over medium heat and cook the bacon until browned on both sides. Once the bacon is cooked to your desired crispiness, move bacon to the outer ring add the whiskey and brown sugar, cooking on high until the liquid has reduced, about 2 – 3 minutes. Dredge the bacon in the liquid, then remove bacon to a cookie sheet or foil lined sheet tray. Sauté the onion in the liquid on medium high heat until caramelized, about 8 minutes.

Toast bread on the outer ring of the FireDisc, spread one side with HABE Mayo, top with pepper jack cheese, lettuce, tomato, onions, and bacon. Warm sandwiches over medium low heat in the FireDisc to melt the cheese and enjoy!
I don't know about the rest of you, but now I got a hankerin' for bacon! Look, folks, I use the FireDisc at my home so I don't have to worry about bacon grease getting all over my kitchen. And, for as much as I do love the smell of bacon-ey goodness hanging in the air in my house, I don't want to have to smell it all day. Problem solved. FireDisc, is there nothing you can't do?
-RV Nana
Save
Save
Save
Save
Save
Save
Save
Save
Save
Save
Save
Save
Save
Save
Save