The 2018 Texas RV Travel and Campground guide is now available!
Usually when I write a blog about Texas campgrounds, I generally feature a stand-out park that I believe is worth visiting. However, I think this time I'm taking a little different direction.
The fact is that I travel a lot. I obviously can't go everywhere and stay at every campground, but I love the feeling that I can try! When I travel, I never leave home without my RV Travel & Camping Guide to Texas.  When it comes to planning a new trip, or even back to familiar areas of Texas, it is easily one of the most important resources I have. This is a free, four-color glossy magazine that lists more than 350 campgrounds and RV resorts in Texas and surrounding states. I can tell you right now, that this campground guide is worth its weight in gold.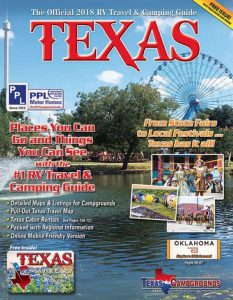 The 2018 directory provides detailed descriptions on roughly two thirds of the private parks in Texas. It's broken up into seven regions of Texas with locator maps, complete services and amenities, as well as driving directions, a miniature locator map, and even panoramic photos showing off what campers can experience. The directory also features a Texas Saver Card, which provides 10% to 15% discounts; needless to say, I have used this card many times.
If you don't want to carry around the guide, you can easily view this 150 page guide online by visiting www.texascampgrounds.com.  Ah, the power of the internet. If you've been looking for your next great camping spot, you need to take a look at this camping guide.  Click here and you can easily search new destinations. Really, go ahead and check it out. You may discover, as I have, that this is a great way to find new destinations.
Plus, if you contact PPL Motorhomes and have one of our huge parts and accessory catalogs mailed to you, I'll include the full-color, glossy 2018 Texas RV Travel & Campground guide FREE while supplies last! Just give us a call at 1-800-755-4775 and we'll get them both in the mail the next day.
Thank you and Safe Travels!