How many times have you left for your trip and forgotten something? Or, run into a situation where you wish you would have remembered (insert name of whatever might have saved the day)?
All of the time, right?
That's why I decided to put together a comprehensive, but not exhaustive list of the thing that I put on my checklist. Yes, even RV Nana can forget some of the important stuff sometimes.
I always put all of these copies in a zip loc bag and store hidden in my RV. I also make sure and carry $5 and $1 bills with me and keep tucked in this bag. People tend to leave home on a vacation with a $100 bill and then have no way to break it along the way and, who knows, you may want to buy ice cream from the popsicle man on the beach and you need something smaller than a $100 bill and he won't take a credit card.
The emergency contact list is so important too.  Accidents and emergencies don't always happen close to home and it would be nice to have an easy way to contact you. 
Also, if you have a dog, it is a great idea to have the dog's name and information on the refrigerator or somewhere close to the door.  I heard a story once about a gentleman who had called 911 because he was having a heart attack and his dog would not let the EMTs in the RV.  Once they knew the dog's name, he accepted them as a friend. 
And, most importantly, please remember to have any medical directives with you!
I also keep all of this information on a flash drive that I leave with my daughter. This way she could easily locate my information in case of emergency.
Some of the things on my list are "no-brainers", others are "slap your forehead, why didn't I think of that" type items. I refer to this list every time I go RVing and I'm happy to report that it has covered all keister a few times!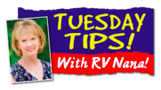 RV Checklist
Important Documents RVers should not leave home without……
Information about your Vehicles
Driver's license
Vehicle Registration 
Copy of vehicle title or registration receipt
Insurance for RV and tow vehicle – ID cards
Roadside assistance information
Important Information about you and those traveling in your RV
Identification – Driver's license or identification card
Passport
Emergency contact list
Medical insurance information
Medical information (see list below)
Important facts about you in case of an accident or emergency
Doctor's name & contact information
List of medications you currently take & pharmacy information
Allergies (drug and food allergies)
Are you traveling with your dog or cat?
ïVaccination information
ïVeterinarian contact information
ïName of your pet
ïFood requirements for your pet
Additional information you may want or need in case of emergency
Banking information
Insurance information for home/RV and life
Will or at least a copy of any medical directive
The last thing we expect is an emergency but being prepared can mean the difference in life or death for you and any member of your family, including your furry friend. And, having information on hand will help for an emergency at home, too!
Refer back to this often, or print it out. This is the RV checklist you don't want to leave home with out. If you have any great additions, let PPL Motorhomes know