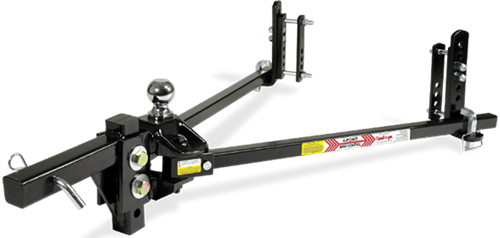 The Equal-i-zer Sway Control Hitch is an American classic, carefully crafted in the USA. Equal-i-zer's unique design combines weight distribution with 4-point sway control. 4-point sway control combats trailer sway caused by towing hazards such as crosswinds, passing vehicles and quick stops. 4-point sway control is a system of four friction points built directly into the hitch. Easier to use and more effective than cumbersome chain style hitches with add-on sway devices.
No turning, backing or weather restrictions. Fits any 2″ receiver hitch and works with virtually any trailer, even with surge brakes. Backed by a lifetime warranty. Includes hitch head, standard hitch shank, two spring arms, hardware, and two sway control brackets. The Hitch Ball is not included, but may be ordered separately below. Please be sure what size ball your trailer requires.
These hitches may be ordered without the shank if you need something other than the standard 2″ drop. Please call for details- 1-800-755-4775.
For more information and an informative video, please visit Equal-i-zer's web site. Look under 'Tech Specs' for help with selecting a hitch shank with the proper drop or rise for your vehicle.