Here are a few of my words of wisdom…mostly learned from my own mistakes.  If you're staying in your RV during cold weather, here are a few things to consider.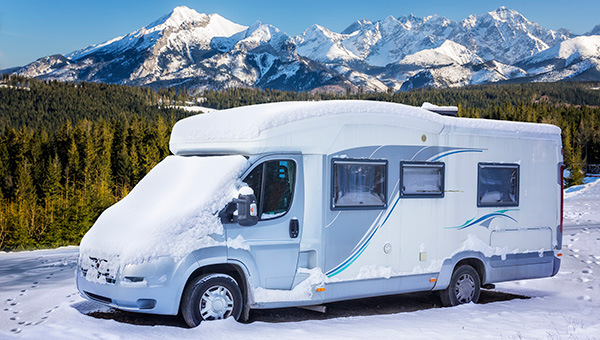 Make sure you have full LP tanks
Do not use space heaters and DO NOT use a portable gas heater inside the RV.
Carbon monoxide is a silent killer.  Make sure all your heater vents are not blocked by bedding, storage containers or stuff.
Make sure your LP/Carbon monoxide sensors are working. 
Use RV antifreeze in your system to help protect any water that may be in the holding tanks and lines. 
You will hate it when I say this, but it is a good idea to let a faucet drip a little.
Leave your kitchen and bathroom cabinets open so the heat can get to the location of the pipes
Make sure you have plenty of food and water
Keep a few gallons of bottled water in the RV for coffee, brushing your teeth or drinking water in case your pipes coming into the RV get frozen
Electric heated hoses are great
Wrap the water inlet and water hose to help prevent from freezing.
Be careful on RV steps entering and exiting the RV when it's icy outside.
Grab some extra movies, popcorn and/or a couple good books, snuggle up and be safe and stay warm. 
If your RV is in storage, even inside a storage building, you should winterize the unit. No one wants a surprise sprinkler in the wall of their RV or under the sink when they get ready t o use it in the spring.
You may want to go back and listen to The RV Show USA Facebook live I did on the show Wednesday night. My segment started about 20 minutes into the show and I talk about being safe and staying warm.
Call if you need anything.  We do have another load of RV antifreeze coming in today! 
Stay warm,
RV Nana