I worked last Saturday and it was a terrific day at PPL.  Customers and employees were all in great moods! People were buying new RVs and we got some amazing new consignments. I couldn't believe it! Not one person came to me with something to weigh in on! What did I deserve to get this wonderful but very…very…VERY hot day? 
"I don't think ANYTHING could ruin today!", I casually thought to myself.
And that's when our parts manager  came to me and said; "Emergency! We have a customer who just got his replacement A/C…and it was DAMAGED in transit!".
I don't think I even took a breath before I got out, "GO OVERNIGHT ONE…NO! OVERNIGHT TWO!!! AND, REFUND HIS MONEY!!! No one should endure the heat in an un-airconditioned RV."
True story.
RV Nana really likes that cool A/C! Want an planned RV trip to come to an abrupt re-route? Mess with RV Nana's air conditioner!  I have some information to share with Mr. & Mrs. RV Owner.  One of the most important things you can do to maximize your comfort is to make sure you clean the filters on your AC units…and keep them clean! You can even clean the fins on the back side of the roof ac.  Wind, hail and road debris can cause those lightweight aluminum fins to get bent and then reduce the air flow.  Little things do make a difference in AC units.
How else can you keep some of the heat downHave you ever seen people put vent pillows up in their vents?  This is just one more way to keep the heat from beating into the RV. That works for virtually every RVer, but there are options. There is an awesome new product that we sell for the standard vents.  It's is a vent shade.  Easy to open and close and, in my opinion only, looks nicer than the vent pillows. Try them both and decide for yourself. 
Now, I have a love/hate relationship with the reflective sheets. I don't use them when I am actually RVing. Though they work really well, too well actually. I like to see out of the windows. And when you want to take them off, they can be cumbersome and unwieldy.  THAT BEING SAID, I do use them when we leave our trailer at Galveston Island RV for a month. Putting that simple insulated rolled reflective sheeting up while we were storing it was a great help in keeping the heat down.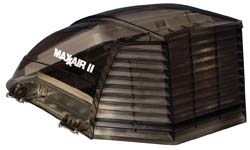 OH! Also, don't forget to always leave a vent cracked when storing your RV.  I have the MaxxAire vent covers, so I always like to leave my vent open an inch, or two to let some of the heat out. This is probably my strongest recommendation.  If its 95 outside, then it could easily be 120 inside your RV.  The heat plays havoc on the interior as well as the exterior of the unit.  I've seen wallpaper curl, seam tape come loose, items secured with command strips just drop to the floor and things are just uncomfortable. 
There're are just a few ways to keep your RV a little cooler. Happy RVing!!!